Dear Friends of TATENDA International,
Summer is approaching here in the USA and a new Travel Team for TATENDA International is preparing to go to provide retreats again in Bangladesh this July 2013.
We are pleased to announce that Dr. Nicki Verploegen will be joined by another companion for this trip, Jacqueline Dombrowski,  a retreat facilitator and a licensed clinical social worker-psychotherapist from Milwaukee, Wisconsin. "Jackie" is also a licensed massage therapist. She has been offering therapeutic services for over three decades, a number of these years consisted of served women and men religious from international backgrounds.  Presently, much of her work is providing psychotherapy to the senior population.  She has traveled to China for specialization seminars in Qigong. She is happy to join the team for this trip and bring her vibrancy and pastoral sensitivity to the work.
The team will leave Boston on Wednesday, July 17 and fly through Istanbul to Dhaka, Bangladesh. After directing 2 eight-day retreats with women from all over Bangladesh, they intend to return to the States on August 9, 2013. It is a crucial time to visit Bangladesh in the wake of the sorrow many have faced there in the recent collapse of the merchandising building in Savar, just north of Dhaka. Nicki and Jackie hope to provide support and encouragement to those who may have been affected by these losses.
You will hear more from our team in the upcoming weeks, but in the meantime we hope to stay connected with you and keep you informed of the plans.
Many blessings to all of you,
The Board of Directors of TATENDA International.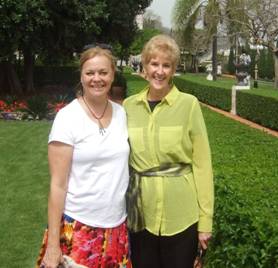 Nicki Verploegen, Ph.D., and Jackie Dombrowski,  LCSW, LMT