Musings from the mission of Bangladesh:
1) Ramadan is a month long period of fasting and prayer for the Moslems. Fridays are the day of worship for them. Especially during Ramadan, it is quieter day since many of the shops are closed, there is less traffic on the street, and people are not out. We welcome any drop in noise and stimuli in this very congested city. Plus, it is raining alot. People even ask the rickshaw drivers to drive them onto our compound.
2) Eid is the feast that closes Ramadan. Everyone goes and gets new clothes and celebrates, much like we do for our Easter. Shopping anywhere in Bangladesh during this time is an exercise in negotiating crowds, pollution, and odors.
3) There are young men building a gazebo on the grounds of the Motherhouse. Every time we walk past, they stop what they are doing and ogle. We wave to them. They shyly and uncertainly sometimes wave back with sheepish smiles, not sure if it is okay to do so with women, or even how to do it.
4) You know how they say there are spiders the size of your hand in Bangladesh? There are! Nicki had a close encounter with one on her towel the first day we were here. They are very fast… and they jump.
5) When we turn on our showers sometimes, the water smells more like oil or sulfur. Hmmmm. Is this a part of the pollution Bangladesh suffers from?
6) There are newborn kittens here. The very juvenile mothers linger at the dining room door, hoping for drop from the tables. Even though the cats are supposed to stay outside, they slink in when they can. The sisters are so kind and gentle, even when scooting a cat with a sinking udder outside. Gentleness is so much a part of this culture. Such a contrast to the harshness in tone from the amplified messages outside these walls.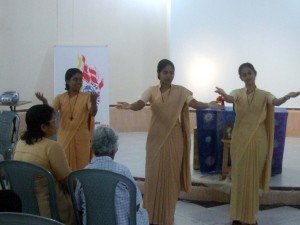 7) Everyone always looks so fresh here, even in this heat. How do these women especially manage to look so unfazed by these conditions?
8) We love siesta.
9) There is nothing like a good, cold glass of safe, bottled water.
10) Sometimes laying on top of a mat under a fan is as close to God as one can get on earth.
Love you all, Nicki and Jackie